Iraqi deaths:
40671 min. reported, 45227 max reported (
Iraq Body Count
)
US Armed Forces deaths:
2621 total deaths, 19,323 combat wounded (8,773 evacuated), plus an unknown number of non-combat injuries. (Wiki and
Iraq Coalition Casuality Count
)
Armed forces of other coalition countries - deaths:
229 (115 British, 32 Italian, 18 Ukrainian, 17 Polish, 13 Bulgarian, 11 Spanish, 4 Danes, 4 Salvadorans, 3 Slovaks, 2 Australians, 2 Dutch, 2 Estonians, 2 Romanians, 2 Thai, 1 Fijian, 1 Hungarian, 1 Kazakh, 1 Latvian.) (Wiki)
Non-Iraqi civilian deaths:
In total, at least 568 non-Iraqi individuals have been killed since the 2003 invasion (311 contractors, 87 journalists, 20 media support workers, and 150 aid workers). (Wiki)
Since 2003 America has been trying to build Washington's democracy beachhead in the Middle East. It's now 2006 and US Defence officials finally concede that the violence in Iraq is at its worst - by the body count, by public support and by the ease with which
Sunni and Shiite militias
exploit gaps in American forces which are spread far too thinly to make a difference.
"Nobody's ever suggested that the attacks of September the 11th were ordered by Iraq"
-- U.S. President George W. Bush
"...one Pentagon proposal would send Special Forces teams to advise, support and possibly train Iraqi squads, most likely hand-picked Kurdish Peshmerga fighters and Shiite militiamen, to target Sunni insurgents and their sympathizers, even across the border into Syria..."
(MSNBC)
"
There's an ethnic cleansing in progress and it's impossible to deny. People are being killed according to their ID card. Extremists on both sides are making life impossible. Some of them work for 'Zarqawi', and the others work for the Iraqi Ministry of Interior. We hear about Shia being killed in the 'Sunni triangle' and corpses of Sunnis named 'Omar' (a Sunni name) arriving by the dozen at the Baghdad morgue. I never thought I'd actually miss the car bombs. At least a car bomb is indiscriminate. It doesn't seek you out because you're Sunni or Shia.
"
Operation Iraqi Freedom
- Official website of the Multi-Force in Iraq
www.albasrah.net
~~
The United States Army
~~
Iraq Under Occupation (Al Jazeera Special)
Iraqi death squads
~~
Iraq: Civil War
Iraqi Airways luggage tag.
In the news: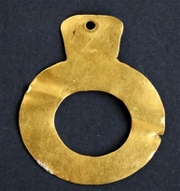 ...ok, it's news from Feb 2006 ;-)
A
Greek hiker found a 6,500-year-old gold pendant
in a field and handed it over to authorities, an archaeologist said Thursday.
The flat, roughly ring-shaped prehistoric pendant probably had religious significance and would have been worn on a necklace by a prominent member of society. Only three such gold artifacts have been discovered during organized digs, archaeologist Georgia Karamitrou-Mendesidi, head of the
Greek archaeological service
in the northern region where the discovery was made, told The Associated Press.
Greek hiker found a 6,500-year-old gold pendant
+ +
KISUMU, Kenya (CNN) -- Tens of thousands of Kenyans lined the streets of Kisumu on Saturday, giving U.S. Sen. Barack Obama a hero's welcome as he arrived to visit the nearby village where his late father and grandfather lived.
+
View News From Greece.
+
++
View News Around The World.